19 Best Small Kitchen Design Ideas for House
Finding small kitchen design ideas is very important to make the kitchen space comfortable. Here, we provide 19 best small kitchen design ideas for your dream house.

The kitchen is one of the places that the wife often uses to cook. Hence, the beautiful and comfortable decoration is very helpful while preparing the dish.
1. Natural Lighting to Save Electricity
Natural lighting such as sunlight provides complete and perfect light to the entire kitchen. It is an idea that saves electricity. Source: fifimcgee.co.uk

2. Compact and Eye-Catching Floor Tiles
With an eye-catching floor and also the color of the walls makes the narrow space can be fully utilized. Source: fifimcgee.co.uk.
3. Optimize Shelf On The Wall
Making full use of walls is an act of genius. With limited space on the tabletop, kitchen items can be hung and store well with shelves. Also easy to reach and use. Source: thekitchn.com

4.

Creative to a Unique Design
Not everyone has the perfect kitchen shape. Although it looks strange, this small kitchen design ideas gives a very beautiful result. Space is fully utilized so as not to look idle. Source: thekitchn.com

5. Simple and Minimal
The design is subjective. Up to the owner. Simple and minimal features can reduce stress. A few items can also reduce wastage to unnecessary things being in the kitchen. Source: thekitchn.com

This simple idea can also be applied to a small living room.
6.

Another Hanging Pot Idea
Space on the kitchen cabinet and tabletop can be placed kitchen items such as pots, bowls and plates.
However, the provision of a special hanging room can provide more space to hang kitchen utensils such as pots and pans. Source: housebeautiful.com

7. Center Hanging Lamp with White Concept
Source: homeincube.cz
8. Brighter and Tidy
Clean white walls keep the space feeling fresh and up-to-date.

Here's another top design tip to take from her, cabinets with a shine do a super job of reflecting light around a space to open it up, too. Source: fifimcgee.co.uk
9. Open Plan with High Bar
I wanted the kitchen to be open plan so that we could chat while we cook, but not so open plan that I would be able to see the mess in the kitchen while we eat.

So I installed a high bar instead of a counter. Source: babyccinokids.com.
10. Light Color with Wood Style Floor
All new fixtures contributed to the lighter look, as did the extension of a pass-through window into the main living space.

Her contractor knocked down the bar to countertop height and enlarged the opening which lets in all the light from the neighboring room. Source: sweeten.com.
11.  Small Kitchen Concept of Pass-through Window with Extended Counter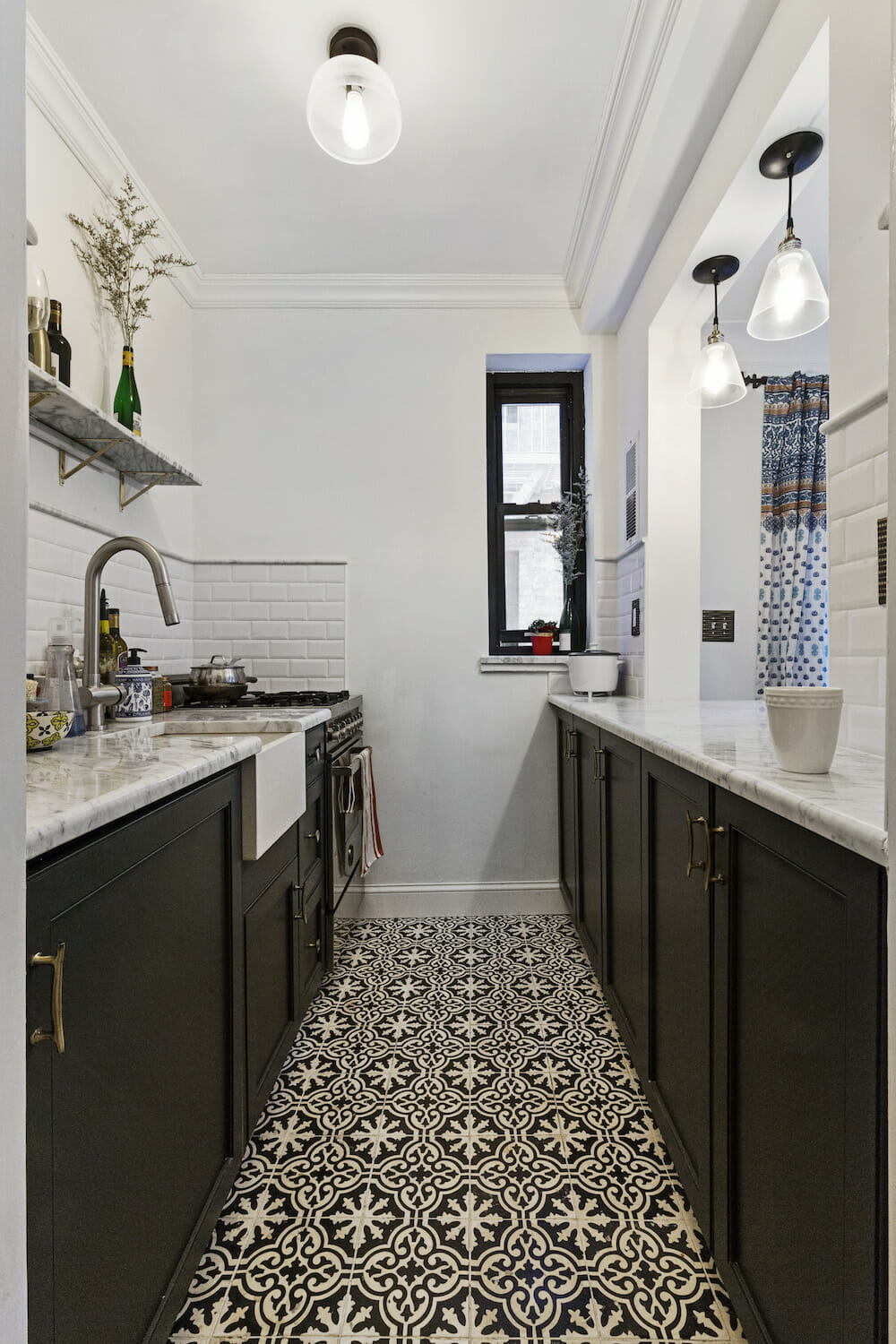 The six-foot-wide galley kitchen in Emily's prewar apartment was completely cut off from the living room.

To open it up and make the layout more ideal for entertaining, her contractor created a pass-through window with an extended counter and two stools on the non-kitchen side. Source: sweeten.com.
12. Upper and Base Cabinets on One Wall
With only the width of a range to work in, this layout presents an efficient way to navigate this space. Source: sweeten.com.
13. Moving Away Refrigerator 
A cutout in the wall at the entrance also helped free up space. If you're unsure about taking down walls, moving your refrigerator can be an alternative to free up space while preserving the existing layout. Source: sweeten.com.
14. White Concept with Minimal Appliances and Tools
Small kitchen inspiration by zoeoliviablog.co.uk
15. Small Kitchen Decor with Grey Concept
Small kitchen inspiration by zoeoliviablog.co.uk
16. Windy Concept with Window
Small kitchen inspiration by zoeoliviablog.co.uk
17. Dark Concept
Small kitchen inspiration by zoeoliviablog.co.uk
18. Light Color with High Ceiling
Small kitchen inspiration by zoeoliviablog.co.uk
19. Small Kitchen Design Ideas with The U-Shaped Kitchen
Ideal for small spaces, U-shaped kitchens (sometimes called C-shaped kitchens) can accommodate only one or two cooks, depending on the width of the U.

As its name suggests, this configuration features a horseshoe-shaped work area, with cabinets and counters running around three sides with an open end for access. Source: remodelista.com.
We hope that this 19 small kitchen design ideas can become your first move to decor your dream house. Good luck!
Tagged:
Small Kitchen Design Ideas